Fundraisers
Find out how you can help us with donations, class activities, and volunteering.
How you can help:
Donations
Classroom Support - Ask your teacher to find out how to help with our classes.
Volunteering - Join our Home School Association. Contact us for more information.
We thank our wonderful community of families, teachers, staff, local businesses, and our Catholic Church for supporting our school.
AmazonSmile
AmazonSmile is a simple and automatic way for you to support St. Mary's Church and School while shopping for gifts. Tens of millions of products on AmazonSmile are eligible for donation. Visit the AmazonSmile website and search for "St. Mary's Catholic Church," and be sure you type it in just that way and make sure you are selecting the St. Mary's in Clinton, Maryland, for us to receive donations from eligible purchases before you begin shopping.
Use your same Amazon.com account on AmazonSmile. Thank you for your support!
Silver Diner Fundraiser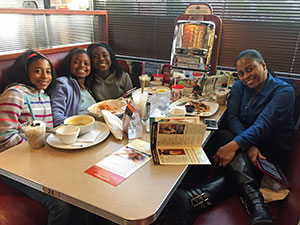 Sign up for the Eat Well, Do Well rewards program, and register your card with St. Mary's School. Use the card when you eat in or order out, and our school gets a portion of the sale!
Box Tops for Education
If you purchase products with Box Tops for Education, please collect them and turn them in to the school office.