A Message From Our Principal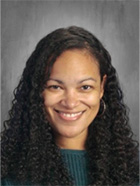 Dear Prospective Family,
Welcome to our school! From the first moment I arrived at St. Mary's, I knew I was home. There is an intense feeling of belonging that I could not ignore. You have now found yourself at a close-knit community, where God truly does live through us all. As you walk the halls of the school, take special note of the interactions between students, faculty members, and parents.
At St. Mary's School, we are more than just a school. Our highly-qualified teachers and staff are passionate about their work, which is reflected in the success of our students. Our amazing students deeply care for one another and treat one another with kindness and respect. Academics are rigorous, where we prepare our students not only for high school but beyond. We want them to be lifelong learners. In addition to growing academically, we help to guide our children to growing spiritually.
Our spiritual formation begins with our youngest learners in pre-K3, goes through our second graders who receive the Sacraments of First Holy Communion and Reconciliation, up to our seventh- and eighth-graders who go through a two-year program to receive the Sacrament of Confirmation.
I am truly blessed to have found St. Mary's School of Piscataway. Each student and family brings a special component to our school. I hope you all feel the same warmth as you to tour our school and get to know our faculty, students, and parents.
We are happy to answer any questions you may have. Please feel free to call or email us and set up a tour of our school.
Lynsie Reavis
Lynsie Reavis
Interim Principal